When is a trend not a trend? When it's a time-honored interior design idea used by the pros to make a room sing. One of the trendiest old-but-new design ideas for 2020 is layering vintage
When is a trend not a trend? When it's a time-honored interior design idea used by the pros to make a room sing. One of the trendiest old-but-new design ideas for 2020 is layering vintage and new rugs. ELLE DECOR magazine declared this a 2020 trend in their November 2019 issue, while interior designer Liz Caan told The New York Times in 2020 that "a home should be layered …so it feels like a space that might envelope you. The goal is a pleasurable tactile experience", to which we would add the second goal of a pleasurable visualexperience.
Read on to discover something old: a British designer from the famous firm of Colefax & Fowler whose rooms were always layered with rugs. Something new: the new British kid on the block who's mad about layering. Plus "how to get the look" and our top five tips to layer rugs like a boss.
Rug Layering: Something Old
Interior design fans will know the name Colefax & Fowler as the fabled British decorating firm whose full name is Sibyl Colefax & John Fowler Ltd. (and yes, they're on Instagram @sibylcolefax). Roger Banks-Pye (1948-1996) was Interior Design Director for Colefax & Fowler. He was a pioneer in ultra clever yet inexpensive design ideas, including his most inspiring and easy to copy idea: rug layering.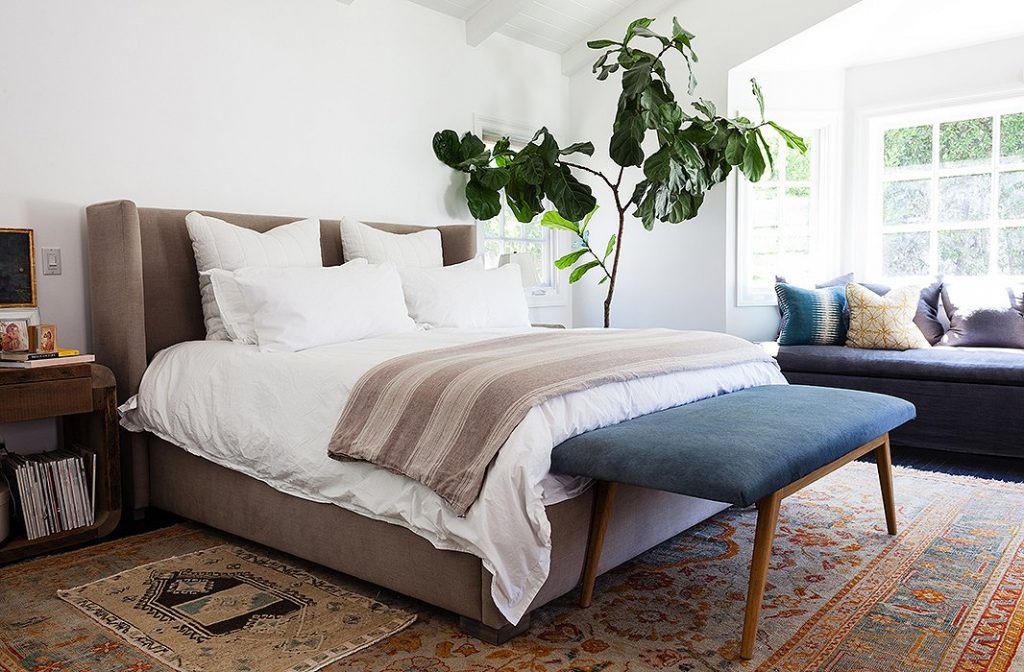 In his book Inspirational Ideas, published the year after his death, Banks-Pye described why layering rugs is such a good idea. You may not have the skills to sew together rugs like he did, but his take-away ideas will inspire you to try something similar. Here are four ideas from his book:
Layering rugs on rugs is effective because different patterns placed together cancel each other to create a visually harmonious, impactful space
Old rugs and sections of old carpets can be pieced to make new shapes. Banks-Pye did this in the drawing room of his country house. He used the medallion center from an old Persian rug and sewed it to strips of old wool rugs. He layered sewn-together cotton rag runners on top. He also pieced together an off-white rug from sections he rescued from a damaged 17th century Agra carpet.
He layered different types of old and new rugs with runners of all sizes. "Twenty carpets layered on floorboards look marvellous" he said.
He did confess that sometimes he layered rugs because he had nowhere to store them, but he wouldn't have layered them if he didn't believe the outcome looked good.
"Old rugs are right in any house" Banks-Pye said. For 21st century home owners his ideas are pragmatic (he didn't worry about worn areas on his rugs instead he made the wear a feature) and affordable. Remember that he also used new rugs to complement the old. Banks-Pye wasn't afraid to mix it up. His ideas are easily recreated in homes today even on a modest budget, or maybe we should say "especially" on a modest budget, as multiple small or medium sized rugs are often more cost effective than room-sized rugs.
Layering Rugs: Something New
One of Britain's new breed of young designers – Luke Edward Hall (whose quirky, colorful, illustrative style is an Instagram fav @lukeedwardhall) – is a big fan of layering, particularly when it's something old like a Persian rug, mixed alongside a newer rug. Hall told The Financial Times in 2019 that he's drawn to "layers and layers of colour, texture and pattern" in a room design. Hall believes "layered, more textured" interiors reflect your personality, "so the more layers there are, the more interesting". Or as we say when we interpret his thoughts, "the more the rugs, the merrier!"
Get the Layered Rug Look: Create a horizontal gallery "wall"
The trend for gallery walls – the crowded but curated wall collection of framed art – is on the way out according to House Beautiful who noticed in 2019 that fewer gallery walls are uploaded to Instagram. Designer Katie Hodges told House Beautiful that gallery walls "tend to look cluttered." While gallery walls may be on the way out, we recommend you borrow the concept and create a "gallery wall" on your floor with a collage of rugs. The upside of a "gallery floor" is the infinite possible arrangements which unlike a gallery wall can be shifted and switched up with relative ease.
The idea behind a floor-based "gallery wall" is the same as the wall: the objective is to create a harmonious look with multiple "images" or rugs in this case. Don't worry about patterns or sizes but do try and collect rugs with similar or compatible colors which will allow different scales of patterns and types to merge together in a friendly group. Remember Banks-Pye and don't be afraid of too many rugs, in the same way that gallery walls always look better with loads of images in different shapes and sizes.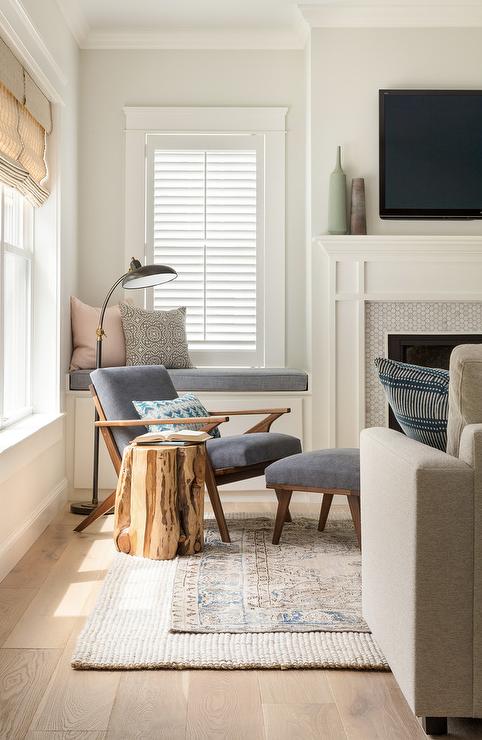 Our Five Top Tips for Layering Rugs
Choose your style. Do you favour the Banks-Pye look of many layered rugs, or the lighter, slightly less eclectic look of a few statement rugs layered together – a look more in tune with designers like Luke Edward Hall and Katie Hodges. Her advice for wall art – a limit of two or three larger scale pieces – can be translated for rugs layered on the floor. Our images show both – a mix of Persian rugs in a living room is a more Banks-Pye look, while and a tailored look of three rugs in descending size stacked in a living room is more attune with Hodges' advice.
Be bold. Layer new and old and different price points. Remember Banks-Pye dared to layer cheap cotton rag rugs on top of an antique Persian rug. He made it work by balancing the colors to create a cohesive field.
Define your space/ Are you layering rugs to divide a huge space into separate areas, are you layering to create a hygge statement of warmth, coziness and texture, or are you layering to highlight your floor-based "gallery wall"? Once you know what type of space you're creating the types of rugs you need will be easier to select.
It's worth repeating: to pull off the layered look, stick to a limited color palette. While some will recommend patterns in the same scale, we side with Banks-Pye and say that differing scales are a plus point and will automatically balance each other if the palettes are compatible.
Our last tip isn't exciting but it is necessary, non-skid rug pads are a vital element to keep your rugs neatly in place and to protect people and pets from skidding rugs!