Consumer demand for Oushak rugs shifts through dips and peaks, but Oushak rugs are never out of fashion among interior designers. Why? Because unlike other high quality traditional rugs, Oushak rug patterns morph between myriad
Consumer demand for Oushak rugs shifts through dips and peaks, but Oushak rugs are never out of fashion among interior designers. Why? Because unlike other high quality traditional rugs, Oushak rug patterns morph between myriad looks, allowing them the enviable role as the versatile "butterfly" of rug designs. 
Popular in England during Queen Victoria's reign, and also several times in the next century (a 1972 rug article in New York magazine stated Oushaks "are very much in fashion"). Oushak rugs in the 21st century are popular with consumers and design professionals because they fit seamlessly into décor ranging from traditional to eclectic to contemporary. Read on to learn more and to discover our newest rug collection – Angora Oushak.
What are Oushaks?
Oushak (sometimes referred to as Ushak) have been woven for centuries. The pleasingly "simple" and symmetrical Turkish (or Ghiordes) knot is looped and tied on the warp and held snugly by the weft. Oushak desirability (and their value if they are antiques) derives from pattern, colors and wool, not from the number of knots. Oushaks have a lower knot count than some prized rugs, but the lower knot count means a rich, visible and durable texture that speaks to consumer desire in the 21st century. Added bonus? A lower knot count often equates to lower prices, particularly in newly woven rugs. 
With designs originating in Persia (Iran), Oushak rugs became known throughout the world from the famous weaving center in Usak, Turkey (which also loaned its name to the rug). Originally classified by knot type, Oushak gradually became identified by their decorative Persian-style patterns. Patterns from as early as the 15th century became part of the design canon and were (and still are) adapted to suit fashionable tastes.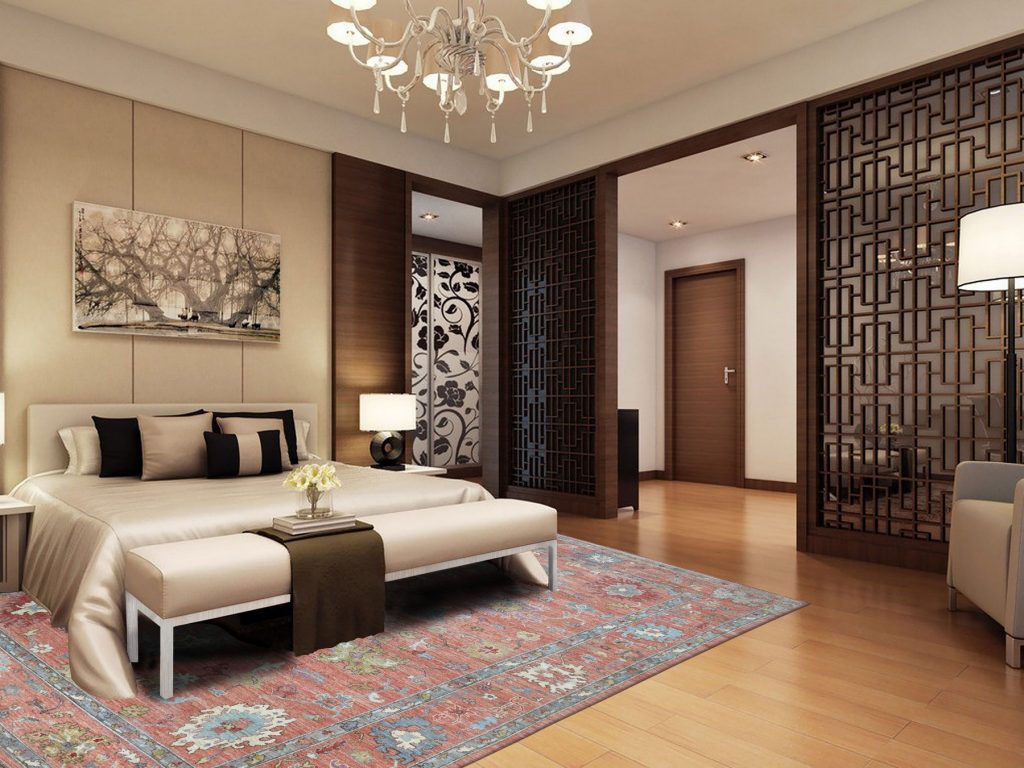 Oushak pattern and color versatility
It's worthwhile to note the versatility and adaptability of Oushak patterns. For example the "star" pattern is sometimes a central star on its own, or it can be a field of repeating stars. Some Oushak designs are tightly focused such as the central medallion style, while other designs blossom to repeat in all four directions. Rug patterns that lack directional orientation are particularly suitable in contemporary rooms where designers prefer rug designs that flow with the space rather than rug patterns that "dictate" furniture arrangement. 
Color freedom is another reason Oushak rugs fit into so many different types of 21st century room design. The lyrically light open fields of flower heads seen on many Oushak rugs are particularly suited for the macaroon color schemes used by designer India Mahdavi and widely emulated by many designers in 2019. Bold color drenched Oushak rugs in a single color – pink, orange and petrol blue are popular – is trending among designers who favor an eclectic, boho, or maximal design style.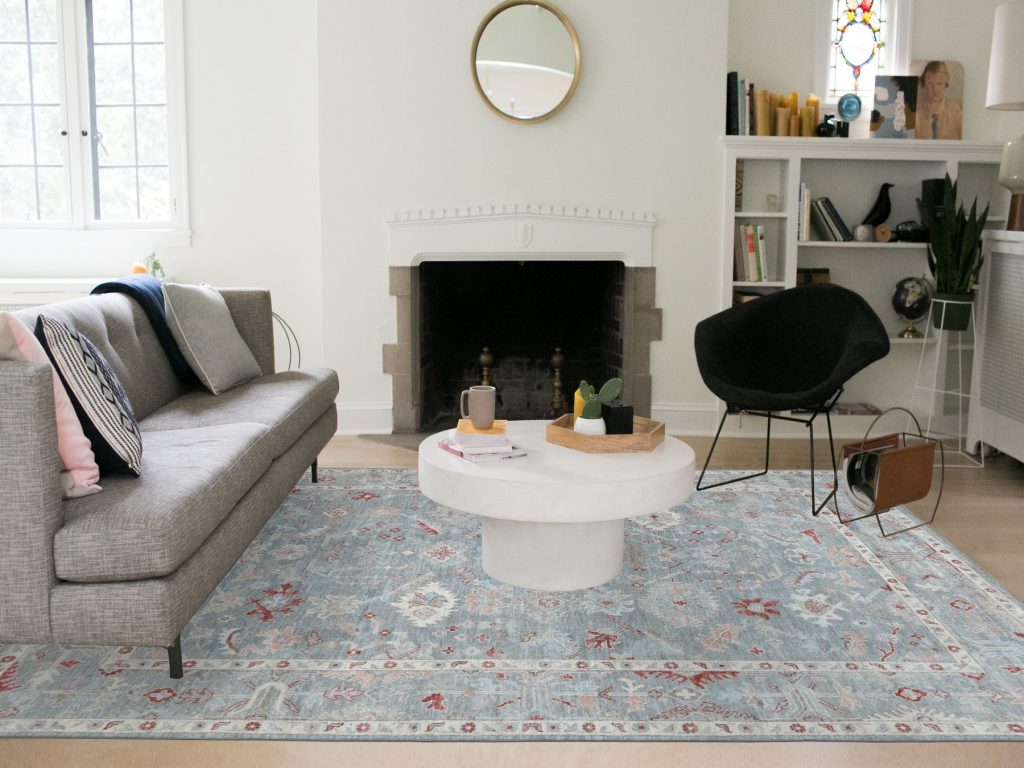 2019-20 Market Trends
Casual but elegant, decorative yet restrained, newly woven reinterpretations of classic Oushak designs – particularly with stylized and oversized flowers – are the market leaders in 2019 and beyond. These new iterations are known in the trade as "transitional" rugs, which means the designs are a delightful mix of traditional and contemporary design ideas.
The new designs retain the best of classic Oushak – quality and patterns – while renewing the designs and using new soft colors for fields and flowers highlighted by seemingly random pops of bold color. The color pops aren't random, but rather designed as "accent aids" to give designers increased ability to coordinate the rug to objects and furniture and effortlessly create a harmonious palette to tie the look together.
S&H Introduce our newest collection: Angora Oushak
Woven from real Ghazni mountain sheep wool, and washed multiples times achieving lusters vibrancy sheen look which has not being reach before combining it with natural dyes, our Angora Oushak handmade rugs have the power to transform a room. Inspired by antique Turkish Oushak rugs, our new collection of five inaugural designs is produced and hand-knotted in Afghanistan, and reimagined in contemporary colors and patterns. Our goal with this collection was also to reinvigorate the craft of hand-knotting by emphasizing the revival of otherwise endangered natural dye art practised by local artisans. 
Our Angora Oushak collection is naturally dyed and 100% hand-spun. The rugs are luxurious and luminous transitional designs in contemporary colors. Love the look but need a different colorway? We can work with you to custom design your own unique Angora Oushak Rug with your chosen colors and size.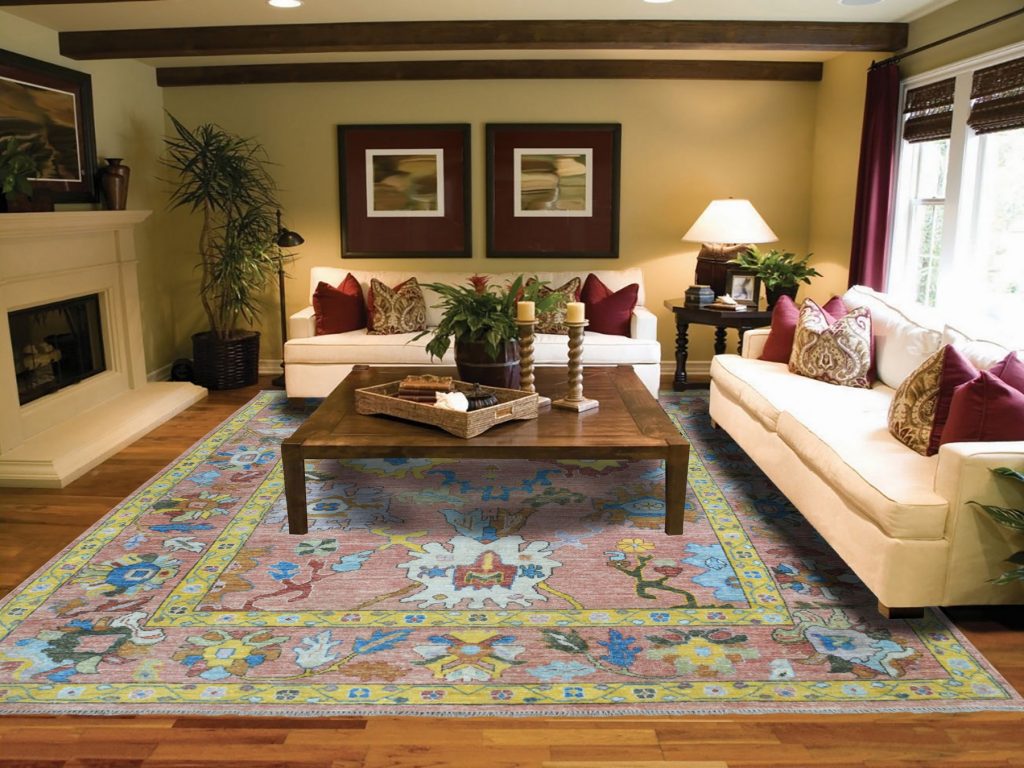 Key Oushak Takeaways
good value and versatile
a lower knot count allows scope for greater design variety
the knot technique creates a durable surface
classic and contemporary at the same time. Traditional patterns are comforting nods to the past, while the open field design is contemporary, clutter-free and "clean".
Bold or pale, the color choice is yours